NYS Athletic Trainers' Association Partners with Parent Heart Watch
The New York State Athletic Trainers' Association (NYSATA) is pleased to endorse Parent Heart Watch (PHW), a grassroots organization of parents and partners solely dedicated to reducing the potentially-disastrous consequences of Sudden Cardiac Arrest (SCA) in youth. The objectives of PHW in the areas of education, prevention, recognition, and appropriate emergency action aligns them very well with the intentions of NYSATA and all levels of athletic training-related associations.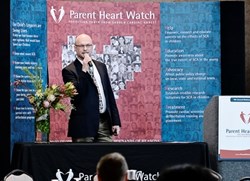 I hope the NYSATA endorsement of PHW is the first of many state athletic training associations and similar organizations joining forces in the common goal of protecting our youth.
Buffalo, NY (PRWEB) February 13, 2014
Approached in the fall of 2013 by a joint member of both the NYS Athletic Trainers' Association (NYSATA) and
Parent Heart Watch (PHW)
for the organizations to join efforts, NYSATA saw this connection as a win-win for both groups and gladly accepted the invitation of support for one-another. In addition, PHW invited a NYSATA member athletic trainer to present at their annual national conference this past January.
The mission of PHW is to protect youth from
Sudden Cardiac Arrest (SCA)
and preventable Sudden Cardiac Death (SCD) and their goals and purpose lie in the education, advocacy, and implementation of programs to help prevent disabilities and death of youth caused by SCA, including appropriate emergency action and equipment – knowing these factors could have made the difference in saving their children's lives. This focus aligns well with the objectives and intentions of the athletic training profession and AT-related organizations like NYSATA.
Athletic trainers (ATs) are healthcare providers educated in the recognition and management of cardiac conditions that may be seen in a sport-related setting, such as SCA and
commotio cordis,
and are required to maintain a CPR/AED certification as part of their professional certification. ATs also understand the importance of having appropriate emergency action plans (EAPs), including appropriate equipment, in place. The partnership between NYSATA and PHW can help bring attention to an increasing health issue in the United States and will provide not only members, but healthcare providers, school officials, legislators, and the general public with educational materials, local cardiac screening opportunities for youth, and other useful resources in the prevention and emergency planning for cardiac emergencies.
PHW has a number of initiatives including affordable or free youth heart screening events, assistance in obtaining automated external defibrillators (AEDs), support for CPR/AED certifications for those who work with youth, and advocating for a National Registry of SCA and SCD in young populations. Other day-to-day points of focus are the education of youth, parents, and health care professionals, including certified athletic trainers (ATs), on the latest safety information regarding SCA, and promote effective emergency planning, including a written emergency action plan (EAP), for life-threatening situations such as SCA and traumatic cardiac injury, like commotio cordis.
Individually and as an organization, they have already changed laws, placed thousands of AEDs in local communities, and conducted heart screening events for thousands of youth. Specifically in NYS, they have a few member organizations that offer such screenings. The
[Madison McCarthy Cardiac Care Coalition for Children
runs screenings in the greater Buffalo area and
Heart Screen New York,
and affiliates - the
Louis J. Acompora Memorial Foundation
and the
Dominic A. Murray 21 Memorial Foundation
- offer screenings around Long Island. In addition to cardiac screenings, these organizations carry out grassroots awareness campaigns, organize educational events and CPR/AED training sessions, provide informational and financial assistance to schools to purchase AEDs and become Public Access Defibrillation (PAD) providers, and they lobbied for the successful passing in 2002 of
"Louis' Law"
(NYS Bill #A8779) mandating that all public high schools in NYS be equipped with AEDs in their buildings and at all sporting events. They are now pursuing the introduction of the
"Sudden Cardiac Arrest Act"
in NYS which was recently passed in Pennsylvania and New Jersey, with legislation pending in at least seven other states.
The hope is that these efforts will decrease – and eventually eliminate – preventable disabilities and death of youth caused by SCA, which is currently the leading cause of fatalities on school property in the United States – 1 in 50 schools has an episode each year. Another notable figure, especially where NYSATA is concerned, is in the student-athlete population, where statistics show that, in the U.S. alone, one young competitive athlete dies every three days from an unrecognized cardiovascular disorder. PHW also hopes to stress the importance of early diagnosis of potentially fatal cardiac disease, which is the second leading medical cause of death in children and adolescents in the United States.
In addition to approaching NYSATA for an endorsement, they also invited Andy Smith, MS, ATC, Director of Sports Medicine at Canisius College (Buffalo, NY) – and PHW member - to speak at their 9th Annual Conference in Cary, NC. On Saturday, January 18th, Smith, who is also a Past-President of NYSATA and 2014 inductee into the NYSATA Hall of Fame, presented on the "Call to Action: Engaging Your State High School Athletic Association to Effect Change." In addition to discussing how to reach out to the state high school athletic associations, Smith encouraged PHW members to contact their state and regional Athletic Training Associations for assistance, support, and offering educational information. Smith gave an overview of the athletic training profession and offered examples of how PHW and ATs can work together in protecting youth.
"This is an amazing group of effected individuals who proactively work together as a unit and with affiliated groups, looking and working toward the future to create change in this highly underrated and serious health issue in our country," stated Smith following his time at the PHW conference. "I hope the NYSATA endorsement of PHW is the first of many state athletic training associations and similar organizations joining forces in the common goal of protecting our youth." Smith also noted that, following his presentation, the 160 attendees at the conference gave NYSATA a long ovation for its endorsement of PHW.
Parent Heart Watch was incorporated in 2005 after beginning three years earlier as an informal collaboration of several families across the United States, meeting only online, who all lost a seemingly healthy child unexpectedly to SCA. Thanks to grants and support from the Medtronic Foundation Heart Rescue Program and Patient Link Program the inaugural meeting of the organization was launched, along with educational materials, in 2002, and now PHW has members in nearly all U.S. states.
Parent Heart Watch joins a list of other organizations that NYSATA and other AT associations have partnered with for the awareness, prevention, and management of various life-threatening injuries, illnesses, and conditions in sport and recreation, including: the Korey Stringer Institute (KSI) – (sudden death in sport),
The Second Impact with Ray Ciancaglini
(concussions), Brain Injury Association (of NYS) (brain injuries/concussions), and the Sports Legacy Institute (SLI) (concussions/brain injury from sport).
NYSATA, founded in 1976 and incorporated in 1989, stands to advance, encourage and improve the profession of athletic training (AT) by developing the common interests of its membership for the purpose of enhancing the quality of healthcare for the physically active in NYS. Athletic training is practiced by certified athletic trainers (ATs), who have expertise in the assessment, emergency management, rehabilitation and prevention of acute and chronic sport-related injuries, illnesses and conditions, including concussions. Comprised of over 1,200 certified and practicing athletic trainers, NYSATA is the state-wide affiliate of the regional EATA and District Two of the NATA.